11-11-2020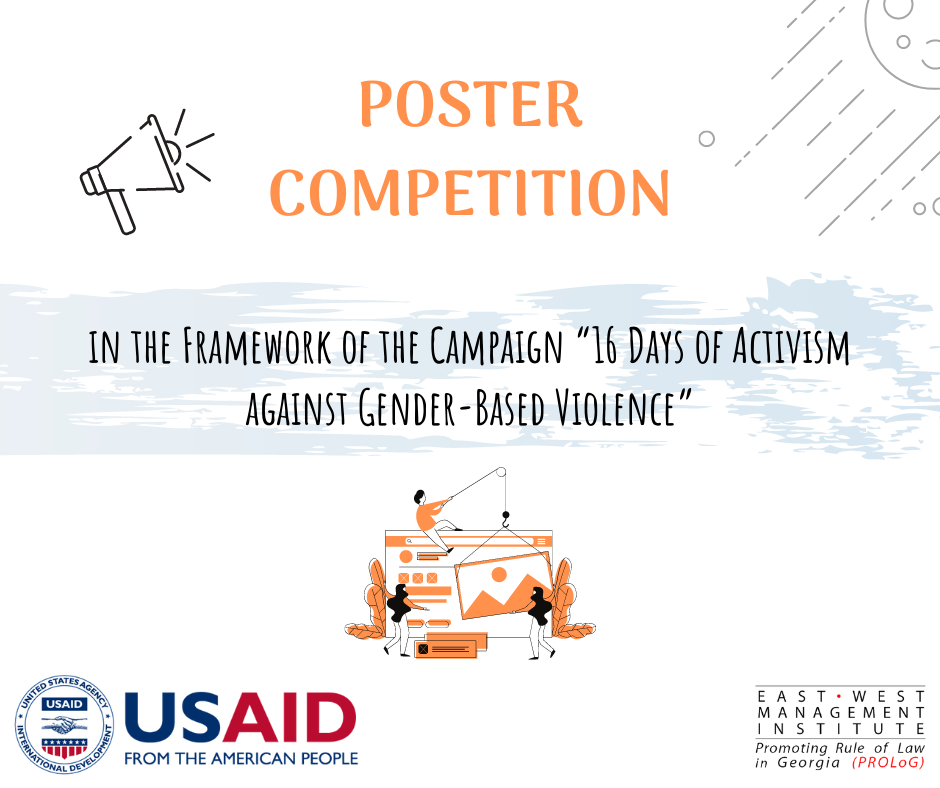 Description:
Violence against women and girls is one of the most widespread problems in the world, manifested in various forms, including femicide, domestic violence and sexual harassment, as well as discrimination due to existing stereotypes.
16 Days of Activism against Gender-Based Violence is a worldwide campaign to raise awareness of gender-based violence and women's rights. The campaign runs every year from November 25, the International Day for the Elimination of Violence against Women, to December 10.
This year, in the framework of 16 days campaign, USAID/PROLoG is announcing a poster competition. The posters should be designed on the topic of gender-based violence and be based on the winning phrases in the previous USAID/PROLoG contest "Change Oppressive Sayings Regarding Women."
The posters should be created around these sayings:
"It's easier to stop the rain, than a woman who is right"
"The fool thinks that a quarrel between a wife and a husband is family matters"
"A woman equal and a man equal are both equal for a country"
Terms of the Competition:
Interested applicants should submit a poster on one of the above sayings.
Technical requirements:
Size: A2 (minimum 2400 pix)
Format: jpeg, png, bmp, PDF
The applicant must e-mail the material to elekishvili@ewmi.org before November 25; 17:00 p.m.
Contest Winner Determination
After the conclusion of the Contest Submission Period, a selection committee will determine the winners according to the following criteria:
Criteria #1 Adherence/appropriateness of poster to the topic;
Criteria #2 Appropriateness of poster to any (one) of the sayings;
Criteria #3 Visual side of the poster.
The winners will be announced on December 2, 2020, and the appropriate awards will be given.
Prizes:
The First Place winner will receive a graphics tablet;
The Second Place winner will receive a tablet computer;
The Third Place winner will receive a wireless headphone.