07-03-2019
On February 19-22, within the framework of British Council's "Creative Spark: Higher Education Enterprise Programme" project, representatives from Keele University (UK) visited Georgian Technical University: Project coordinator at Keele University, Prof. David Collins and "Innovation Adviser" of the project Philippa Chapman.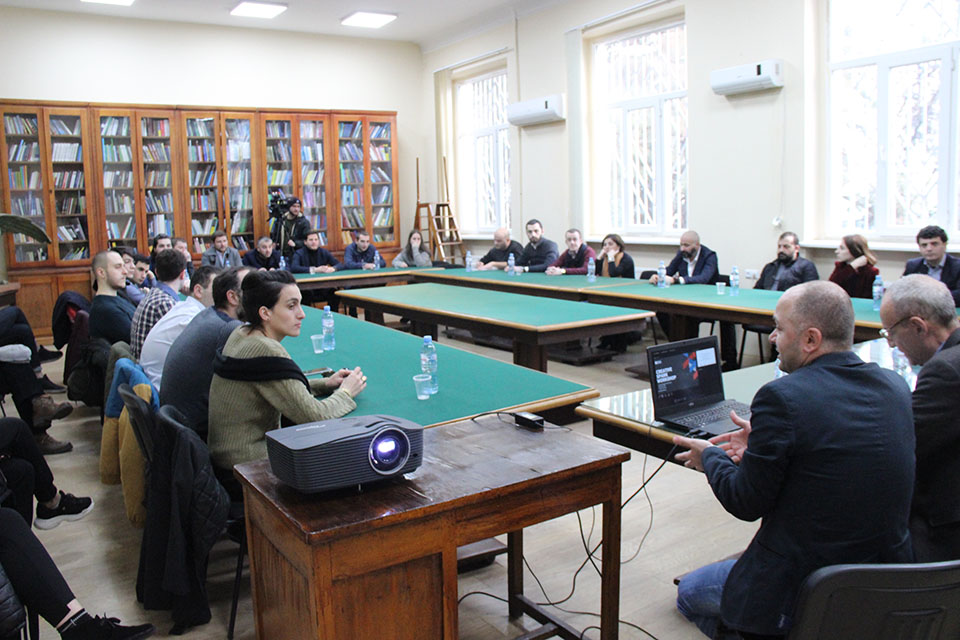 It should be noted, that GTU, with the status of partner university, won British Council grant competition:
"Creative Spark: Higher Education Enterprise Programme"
with Keele University (Great Britain).
The aim of the British colleagues planned visit at GTU was to analyze project ongoing activities and conduct preliminary monitoring.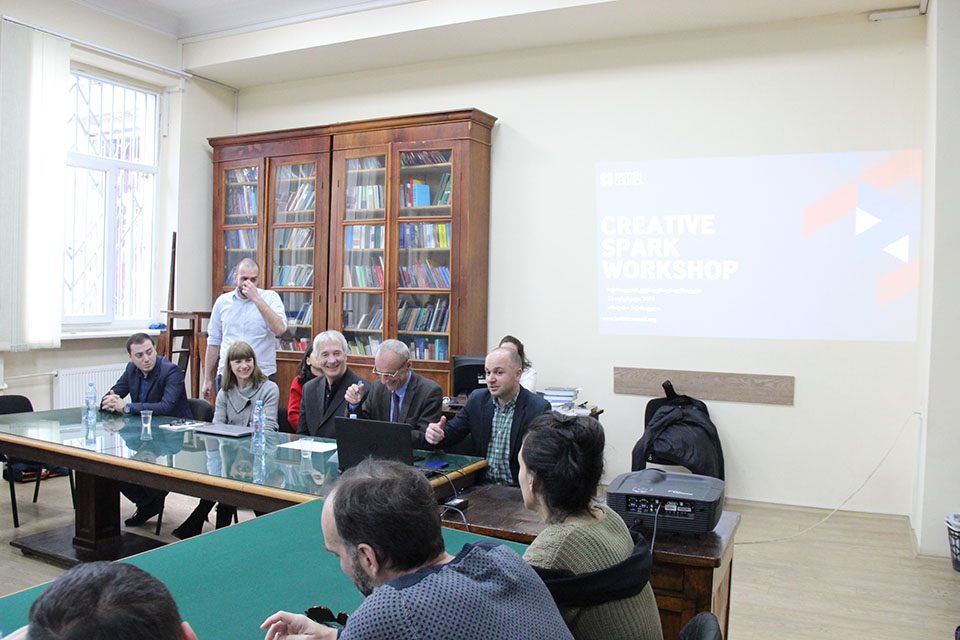 In addition, on February 22, with the participation of British partners,
Project Launch Event
was held at Georgian Technical University, organized by GTU International Relations and Standards Office. The representatives of business organizations, students and Professors, as well as the representatives of GTU administration took part in the event.
The event was conducted by round table principle. Representatives of business organizations emphasized the importance of similar projects and expressed their willingness to be actively engaged in it. British partners shared their experience in the implementation of similar projects over the years at Keele University and presented achieved results.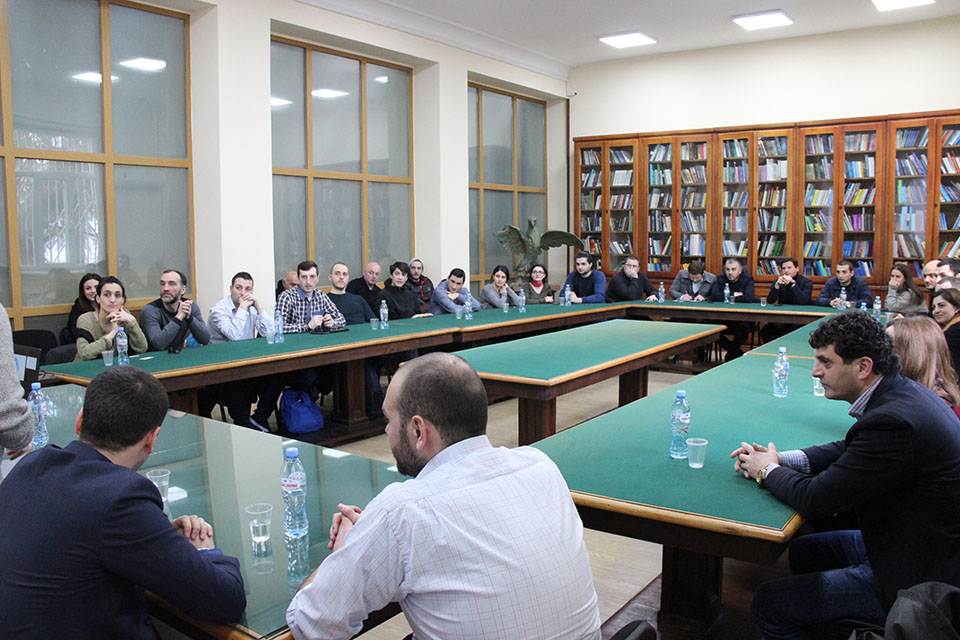 During the visit British guests took part in various activities held at Georgian Technical University: they had meeting with GTU Students Self-Government representatives and got acquainted with the activities of the Students Self-Government.
English partners also held a working meeting in GTU FAB LAB and media-lab "StuNET" and received detailed information about ongoing processes and activities.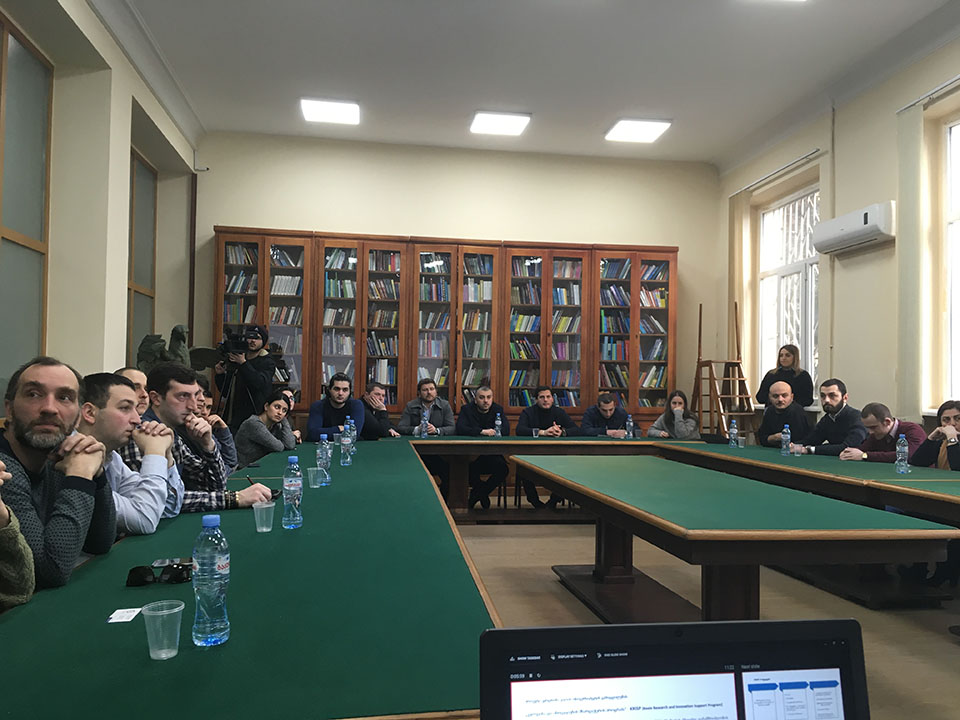 The project with the partnership between GTU and Keele University, aims to:
• Develop entrepreneurial skills in students and young people employed in creative industry.
• Support new businesses with the help of incubation process.
• Share knowledge.
Plans for the first year (2019) within the project:
- Trainings for entrepreneurial skills development (for teachers, students and graduates);
- Develop 10 business ideas by the moderation of experts (trainers);
- Incubate these business ideas;
- Organize international online competition of business ideas;
- Offer online English language courses to students and staff.
Students can join the project in two ways:
1. Presenting their own business ideas - The project envisages generation and practical implementation of student ideas, through incubation and consultations with professors.
2. Working on a Real Business Project - cooperation with business sector, processing real business cases and design solutions to business goals, through consultation with business representatives and professors.
GTU students, academic and administrative staff as well as the graduates, who have innovative entrepreneurial ideas and want to share their ideas with real business proposals or wish to work on real business projects, can participate in the project.
Those who are willing to participate, can be involved both individually and in team principle (in case of the team it is possible to have a maximum of 3 members in the team).
As for the business sector participation in the project, this project is intended for the persons and business sector representatives (SMEs) who are thinking or creating a new product, process or service.
GTU academic staff also have the opportunity to participate in the project. As a project manager and in cooperation with students and business sector they can prepare real projects, which will eventually be presented at the local and international pitch competitions organized by British Council.
For the people involved in the project, who will be able to submit the completed projects (in total 10 projects) at the final stage, various motivational measures are taken into consideration.
The institutional coordination of the project at Georgian Technical university is jointly implemented by GTU International Relations and Standards Office and GTU Commercialization Department. The project is implemented under the auspices of GTU Innovations Center.
Creative Spark: Higher Education Enterprise Programme project is implemented in Great Britain, Georgia, Azerbaijan, Armenia, Uzbekistan, Ukraine, Kazakhstan and Kyrgyzstan. The programme is entirely funded by the British Council.