27-11-2018
On November 26, the representatives of
South Korea University of Science and Technology (UST)
visited Georgian Technical University.
UST delegation was represented by Prof. Shang Gyoo SHIM (Center for Excellence in Education), Ms. Ji Eun PARK (International Cooperation Team) and Ms. Eun Jin LEE (Management Support Team).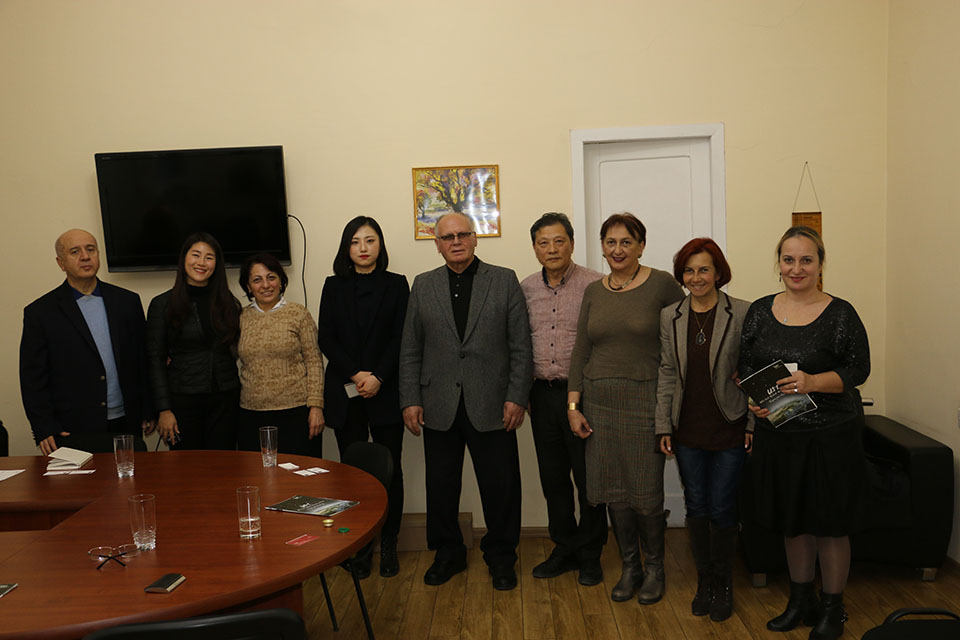 Korean guests had working meeting with Prof. Zurab Gasitashvili, Deputy Rector for Science; Prof. Otar Zumburidze, Head of the International Relations and Standards Office and GTU administrative staff, students and professors as well.
At the meeting, organized by GTU International Relations and Standards Office, the representatives of UST talked about higher education system in South Korea, discussed the possibilities for further cooperation between the universities. Korean guests gave the presentation about fully funded UST Scholarships for International Master and Doctoral Degree Students offered by UST to Georgian students and answered the questions from audience.
As the Head of the International Relations and Standards Office of GTU, Prof. Otar Zumburidze noted, within the framework of the Internationalization policy, UST delegation visited Georgian Technical University with interesting proposal. According to Prof. Zumburidze, main criteria for choosing students to participate in UST scholarship program were identified during an informative meeting.
"UST is ready to invite GTU Graduates to continue their studies on Master's and PhD programs and encourage them to join their scholarship programs. UST has practically all engineering-technological specialties and has the resources to conduct Master's and PhD studies in English, while providing each student with a dormitory and scholarship within up to 1500 USD. South Korean colleagues at the initial stage offer five full-year scholarships for each student. Main requirements are Bachelor's Degree and TOEFL or IELTS Certificates."- mentioned Prof. Zumburidze.
UST Global Research Internship Brochure
,
UST International Students Guidebook
and more detail information on Korean language courses see
here
.
It should be noted that the University of Science and Technology (UST) is a group of public universities and research institutions in Seoul, Suwon, Changwon, Ansan, Seongnam and Daejeon, in South Korea. The UST was established in 2003 by the South Korea Ministry of Science, ICT and Future Planning as the nation's graduate school specializing in science and engineering education and research.